Saint Ann Maronite Catholic Church
"You are Rock, and on this Rock I will build my Church..."
This is the Body and Blood of Jesus, given to you for the forgiveness of sins and for Eternal Life.
External Links
Address
1320 Price Street
Scranton, PA 18504-3336
Rectory: (570) 344-2129
Church Hall: (570) 344-3921
Email: StAnnScranton@aol.com
Directions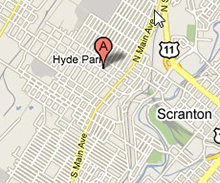 Lebanese Heritage Festival
The annual Lebanese Heritage Festival will be held from noon to 7:00 p.m. on Sunday, September 18, 2022, at Saint Ann Maronite Catholic Church in West Scranton.
Celebrating many decades of Lebanese culture, the festival features delicious cuisine, such as tabbouleh, hummus, grape leaves, spinach pies, pastries, kibbeh, and other Lebanese dishes. The festival brings together generations of parishioners and community members to connect and learn more about the rich heritage of Lebanese culture in Scranton, which originated more than 100 years ago when a large group of Lebanese families settled in the area in 1903.
Visitors are welcome to join the parish for the Divine Liturgy at 10:30 a.m.
Check out our event page on Facebook!
https://www.facebook.com/events/632606134767681