Saint Ann Maronite Catholic Church
"You are Rock, and on this Rock I will build my Church..."
This is the Body and Blood of Jesus, given to you for the forgiveness of sins and for Eternal Life.
External Links
Address
1320 Price Street
Scranton, PA 18504-3336
Rectory: (570) 344-2129
Church Hall: (570) 344-3921
Email: StAnnScranton@aol.com
Directions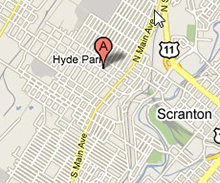 Information
Pastor
Rev. Antoun (Tony) Youssef
Subdeacons
Said J. Douaihy
Robert G. Rade
Divine Liturgies
Saturday at 4:30 p.m.
Sunday at 10:30 a.m.
Daily Mass times announced in the weekly email bulletin
Confessions
By appointment
Communion Calls
Every first Friday of the month
Baptism and Chrismation
By arrangement with the Pastor
Marriage
Couples must see the Pastor at least 6 months in advance
Anointing of the Sick
Please notify the Pastor of family illness
Parish Consultors
Dr. Thomas A. Artabane, Mary Ellen Nasser and Dr. Joseph J. Soma
Meet at the call of the Pastor
Pastoral Council
Atty. Paul P. Ackourey (President), Anne Hazzouri McAndrew (Vice President), Nicole Siconolfi Wheeler (Secretary), Ann Abbott Bryant, Albert J. Mackarey, Philip J. Nehme, and Joanne Azze Vancosky
Meet on the second Sunday of each month after the 10:30 a.m. Divine Liturgy
Stewardship Council
Maurice Abdallah, Atty. Joseph C. Peters, and G. David Wagner
Meet at the call of the Pastor
Heritage Festival Committee Chairman
Said J. Douaihy
Rectory Office Hours
Monday, Tuesday, Wednesday, and Thursday: Noon to 5:00 p.m.